About Our Minyan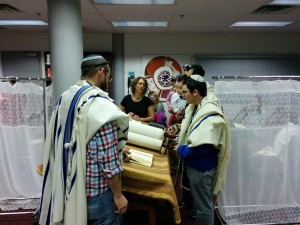 We are a a partnership minyan. At Kol Sasson, women lead kabbalat shabbat, pesukei dezimrah, the Torah service, and fully participate in the Torah reading. This is done in the context of a traditional minyan with ten men and a mechitza. See our "Hashkafa" page for a detailed discussion of the halakhot surrounding women's participation in Torah reading and in leading some parts of the service.
What began as a small group of a handful of families meeting on Friday nights has now grown to become an influential part of the greater Chicago Jewish community. We are a community focused on the critical inquiry of halakha, as well as a feminist spirited group of individuals. We have nearly 80 member units, and we enjoy continued, meaningful growth. We are an entirely lay-led and volunteer based community. While we are gratified by our emergence, we are proudest that each individual member of our diverse community is welcomed, respected, and challenged.
Mon, October 15 2018
6 Cheshvan 5779
Parshat Lech Lecha
Candle Lighting
Havdalah
Motzei Shabbat, Oct 20, 6:44p
View Calendar
Upcoming Events
All Events
Shabbat Dinner with R. Ethan Tucker


Friday, Oct 26th

5:30p

to

8:00p




Please join us for Shabbat dinner with our Scholar-in-Residence, R. Ethan Tucker. Davening is at 5:30, with dinner to follow about 6:30. RSVP and prepayment by Oct. 22 is required.

Ethan Tucker Shabbaton
Shabbat, Oct 27th (All day)


Friday night minyan, meal, and Shabbat with Rabbi Ethan Tucker!
Mon, October 15 2018 6 Cheshvan 5779